THIS 3 PART GROUP WORKSHOP IS DESIGNED TO HELP ASPIRING ARTISTS TRANSFORM THEIR DRAWING HOBBY INTO A CAREER, AND ESTABLISHED ARTISTS DIRECT THEIR CAREER IN A MORE PERSONALLY REWARDING DIRECTION. EACH SECTION OF THE WORKSHOP FOCUSES ON AN AREA OF GHOSTSHRIMP'S PROFESSIONAL EXPERTISE:





CREATING UNIQUE WORK





COMMERCIAL ILLUSTRATION





VISUAL DEVELOPMENT &

ANIMATION DESIGN





GHOSTSHRIMP'S FRESHLY SQUEEZED ASSIGNMENT/HYPE VIDEOS ARE SHARED IN A SECRET GROUP FORUM EACH WEEK. STUDENTS POST IDEAS AND SKETCHES IN THE FORUM FOR GROUP FEEDBACK, AND THEN BREAKDOWN THEIR FINISHED PIECE THE FOLLOWING WEEKEND IN A ONE ON ONE VID CHAT WITH GHOSTSHRIMP!





IF YOU ARE LOOKING FOR AN IN DEPTH WORKSHOP BUILT AROUND PROFESSIONAL PRODUCTIVITY, GROUP COMRADERY, AND WEEKLY PERSONAL ATTENTION, YOU JUST HIT THE JACKPOT!!!





ALL YOU NEED IS A GOOD INTERNET CONNECTION AND YOUR FAVORITE DRAWING TOOLS! WE'VE HAD STUDENTS FROM ARMENIA, BELGIUM, CANADA, ENGLAND, IRELAND, JAPAN, MEXICO, NEW ZEALAND, PUERTO RICO, RUSSIA, SCOTLAND, SOUTH AFRICA, AND ALL OVER THE USA!!!



AND WHEN YOU'RE FINISHED THERE'S AN ALUMNI GROUP TO KEEP YOU SUPER HYPED UP!!! YOU EVEN GET ACCESS TO ALL THE FUTURE WORKSHOP VIDEOS!!! WHAT ARE YOU WAITING FOR???



WORKSHOPS ARE FIRST COME FIRST SERVE, SCHEDULE SUBJECT TO CHANGE, ALL SALES ARE FINAL!
WEEKS 1-4: CREATING UNIQUE WORK
​
PRE WORKSHOP: DOPEST LIFE MANIFESTO
WEEK 1: PERSONAL MYTHOLOGY (sketch to finished piece)
WEEK 2: DREAM WORLD (sketch to finished piece)
WEEK 3: NIGHTMARE WORLD (sketch to finished piece)
​
HAVING A STRONG PERSONAL VISION IS THE FOUNDATION OF EVERY JUICY VISUAL ARTS CAREER. DURING THE FIRST WEEK STUDENTS CREATE A FIVE YEAR PLAN TO PURSUE THEIR AMBITIOUS LIFE GOALS, DEVELOP STRATEGIES FOR SUCCESS, AND SHARE INFORMATION ABOUT POSSIBLE HIDDEN ENTRANCES TO HOLLOW EARTH WITH THE GROUP.
​
NOW THAT THE WORKSHOP WATERS ARE HEATING UP, STUDENTS DIVE DEEP INTO CREATING UNIQUE WORK INSPIRED BY THEIR OWN PERSONAL MYTHOLOGIES, STRANGE EXPERIENCES, NOSTALGIC MEMORIES, REOCCURRING DREAM WORLDS, AND EVERYTHING IN BETWEEN!
​
STUDENTS MAY EXPERIENCE SHORT TERM LEVITATION AT THIS POINT, WHICH MAKES GOING TO BATHROOM MUCH EASIER, ESPECIALLY IN PUBLIC RESTROOMS.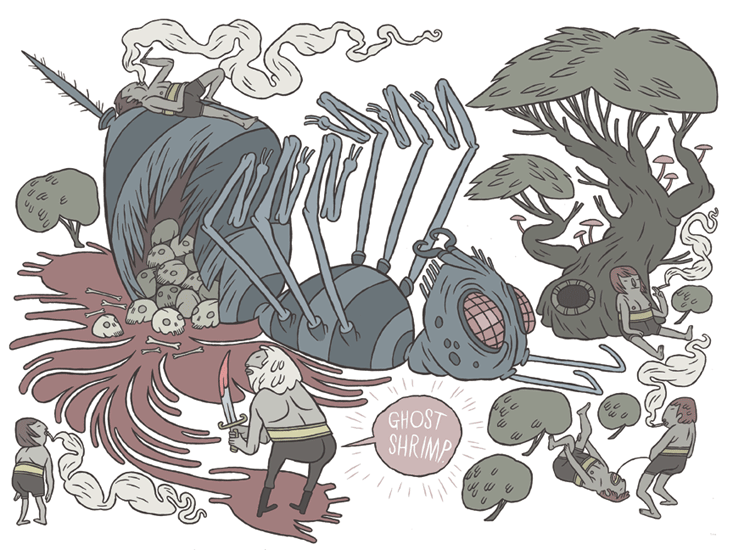 COMMERCIAL ILLUSTRATION
​
WEEK 4: EDITORIAL (sketch to finished illustration)
WEEK 5: ALBUM COVER (sketch to finished illustration)
WEEK 6: PROMOTIONAL POSTER (sketch to finished illustration)
WEEK 7: CATCH UP WEEK
A GOOD ILLUSTRATOR CAN DO JUST ABOUT ANY JOB IN THE COMMERCIAL ART WORLD. THIS SECTION OF THE WORKSHOP BRIDGES THE GAP BETWEEN STRONG PERSONAL WORK AND MEANINGFUL PROFESSIONAL WORK. STUDENTS APPLY THEIR UNIQUE VISION TO THESE CLASSIC ASSIGNMENTS TO CREATE THE SORT OF WORK THEY WANT TO ATTRACT IN THE FUTURE.
​
HERE THE STUDENTS ARE ALSO LEARNING ABOUT PROFESSIONAL PRACTICES, THE DAILY HABITS AND ROUTINES THAT SUSTAIN SUCCESS AND HAPPINESS, AND HOW DEFEND THEMSELVES FROM SUPERNATURAL SHARK ATTACKS.
​
IT IS NOT UNCOMMON FOR STUDENTS TO SPONTANEOUSLY SHAPESHIFT INTO FUTURE INCARNATIONS OR TELEPORT TO INTERNAL DIMENSIONS THROUGHOUT THIS MONTH. THESE ARE ENCOURAGING SIGNS OF PERSONAL DEVELOPMENT.
CONCEPT TO PRODUCTION BACKGROUND DESIGN
​
WEEK 8: VISUAL DEVELOPMENT (concept exploration)
WEEK 9: CHILDHOOD FANTASY FORT EXTERIORS (3 bgs)
WEEK 10: CHILDHOOD FANTASY FORT INTERIORS (3 bgs)
POST WORKSHOP: 3 YEAR PLAN AND JOINING ALUMNI GROUP
NOW THAT THE STUDENT'S MINDS HAVE MELTED AWAY AND FULLY REGENERATED, THEY ARE READY FOR THE BIG LEAGUES - THE HOLY GRAIL OF VISUAL ART, THE BIG MONEY MAKER, THE INVISIBLE DRAGON SLAYER - BACKGROUND DESIGN!!!
THERE IS NOTHING MORE EPIC THAN CREATING THE WORLD FOR A TELEVISION PROGRAM, AND THE STUDENTS BLOW THE BACK OUT OF THIS WORKSHOP BY DOING JUST THAT! FROM PUSHING THE CONCEPT DEVELOPMENT TO LOCKING DOWN THE PRODUCTION DESIGNS, THE STUDENTS EXPLORE HOW TO MAKE THEIR BACKGROUNDS STEAL THE SHOW.
​
WHEN THE WORKSHOP ENDS, THE REAL WORK BEGINS! NOW EVERYONE HAS A PLAN, LOTS OF FRESH PIECES TO POST UP, A GROUP OF MOTIVATED NEW FRIENDS ROOTING FOR THEM, AND OF COURSE THEIR OLD BUDDY GHOSTSHRIMP SHARING SECRETS FROM THE FUTURE! TIME TO STEP UP TO GET YOUR REPS UP!
WORKSHOP GALLERY

CHECK OUT SOME OF THE ALUMNI AND THEIR FAVORITE PIECES FROM THE WORKSHOP!
Sarah Elizabeth Ball, USA
Shamiram Khachatryan, Armenia